The Botallack Trust is the project and funding arm of the Carn Brea Mining Society and is a registered charity. Originally it was set up to raise funds to restore the Crowns engine houses at Botallack, St Just, Cornwall. A lease was obtained and the work commenced in July 1984 and was completed in July 1985. The project was the largest privately sponsored mine engine house restoration project in Cornwall ever attempted up to that date. The Botallack Trust Lease was terminated on the 17th January 2001 when the National Trust purchased the site. They now own and maintain the Crowns Engine Houses at Botallack.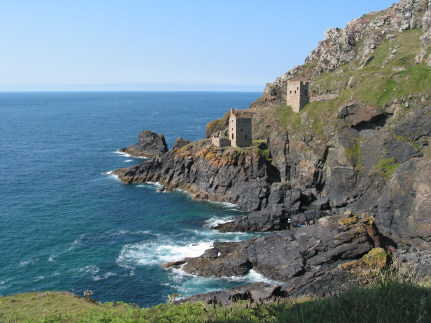 The Crowns engine houses, Botallack
The Botallack Trust is administered by six trustees who are all members of the Carn Brea Mining Society. The objective of the Trust was not only to preserve and maintain the Crowns engine houses but also to encourage and promote schemes that would advance public education in all matters relating to the mining industry in the South West of England.
The Trust, through the Carn Brea Mining Society, has been engaged in several projects in west and mid Cornwall. These include the provision of the memorial plaque which commemorates Cornwall's third worst mining disaster at the Cargodna Shaft, Wheal Owles near St Just. Also a commemorative plaque at Newlyn East Village to pay tribute to the dead in Cornwall's worst ever mining disaster at nearby East Wheal Rose in 1846. The Trust has also worked closely with the National Trust in the Wheal Edward/Owles/Kenidjack Valley area and Levant Mine in West Penwith.
A recent aquistion is the freehold of the Great Condurrow Mine at Troon. This is an ongoing project, which is being continually improved and maintained by CBMS members, as an example of a Cornish hard rock mine.